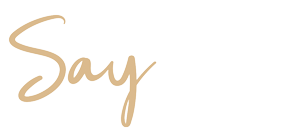 Elope in Camaret
(Brittany – France)
Looking for a wild, intimate, worry-free and authentic wedding day? Look no further, we have designed the perfect Elopement package for you.
Welcome to our little wild paradise « au bout du monde » (literally: at the end of the world), in Finistère, Brittany, and let us guide you through your perfect day.
Combine your ceremony with a honey moon and discover an authentic and charming fisherman village and its surroundings which have so much to offer, from nice hikes, to kayaking in sea caves, or even rock climbing.
Our talented English-speaking vendors are already looking forward to meeting you and to being a part of this magical and unforgettable moment of your life.
Ready to say I do ?

We have selected a list of services which we consider essential to make your day special and memorable. If you feel like adding items to the package, have a look at our list of add-ons.
Personal wedding planner
Day-of on-site coordinator
Outdoors wedding ceremony in a wild and natural landscape
Professional celebrant who will work with you on a personalized ceremony script
Souvenir printed ceremony script
Symbolic certificate (if requested)
Recorded music
Bouquet and matching boutonniere
Hair and Make-up artist
3 hours of photography coverage (ceremony + couple session)
Concierge services
Area activity guide
And if it rains?
Brittany, just like England and Ireland, is known for its moody atmosphere. However, we observe a micro-climate over the peninsula. Clouds move faster, and rain most often comes in short showers. If the weather really makes it impossible for you to exchange your vows on the beach or on the edge of a cliff, we will secure a nice and cozy barn, literally 30 seconds away from the beach, which we will decorate just for you.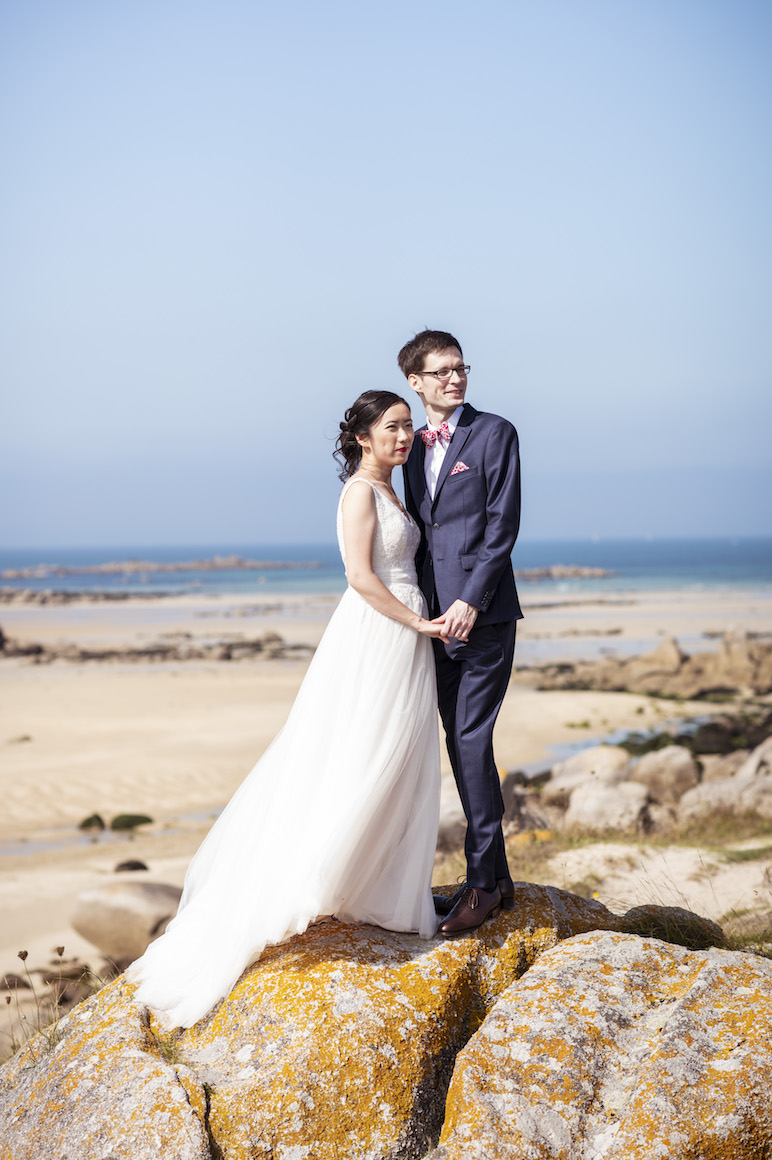 You have decided to escape to our beautiful village, leaving behind you stressful planning, seating plans, and guests' wedding favors. Congratulations for choosing to focus on the essential: your couple! We now invite you to relax, trust our expertise, and start day-dreaming about your romantic parenthesis in Camaret (Crozon peninsula, Brittany, France). Leave the logistics to us, and start writing the most romantic and personal vows, knowing that no one but you will hear them!
From your arrival to the end of your wedding day…
1 – You arrive in France in the cities of Brest or Quimper. We will help you to book a transportation service from there to Camaret.
2 – Your on-site coordinator will greet you as you arrive to your previously booked accommodation (we make suggestions, you book directly).
3 – On your special day, your beauty artist comes to your hotel or apartment rental to pamper you. It's a nice way to start the day relaxed and ready to say "I do".
4 – Your bouquet and boutonniere are delivered to your place.
5 – A member of our team picks you up and drives you to your ceremony location, previously chosen with the help of your planner (overlooking the ocean, on the beach, in the village, by the lighthouse…)
6 – You physically meet with your celebrant, which you will have previously met on skype, and exchange your vows in the most intimate way, surrounded by stunning landscapes
7 – After the ceremony, your photographer will take you on a wild, fun and romantic couple session. If you are bold enough, you might end your session bathing in the ocean !
8 – You share a local beer, a farm cider or a champagne toast on the sand dunes at sunset, by the ruins of a late poet's castle (Saint-Paul-Roux).
9 – Your photographer drives you back to your accommodation to rest before diner (your planner will have helped you with diner booking in advance)
10 – You enjoy the rest of your stay, discovering the area and all the treasures it has to offer. If you are a nature lover, you will be in heaven! You will be able to go on hikes, to chill on various beach, to go rock climbing, to rent kayaks and discover sea caves, to sail…
11 – About 3 to 4 weeks later, you receive a minimum of 120 HD lightly edited pictures. Your photographer will send you a sneak-peak of your pictures, 2 to 3 days later so you can start sharing the news with friends and family.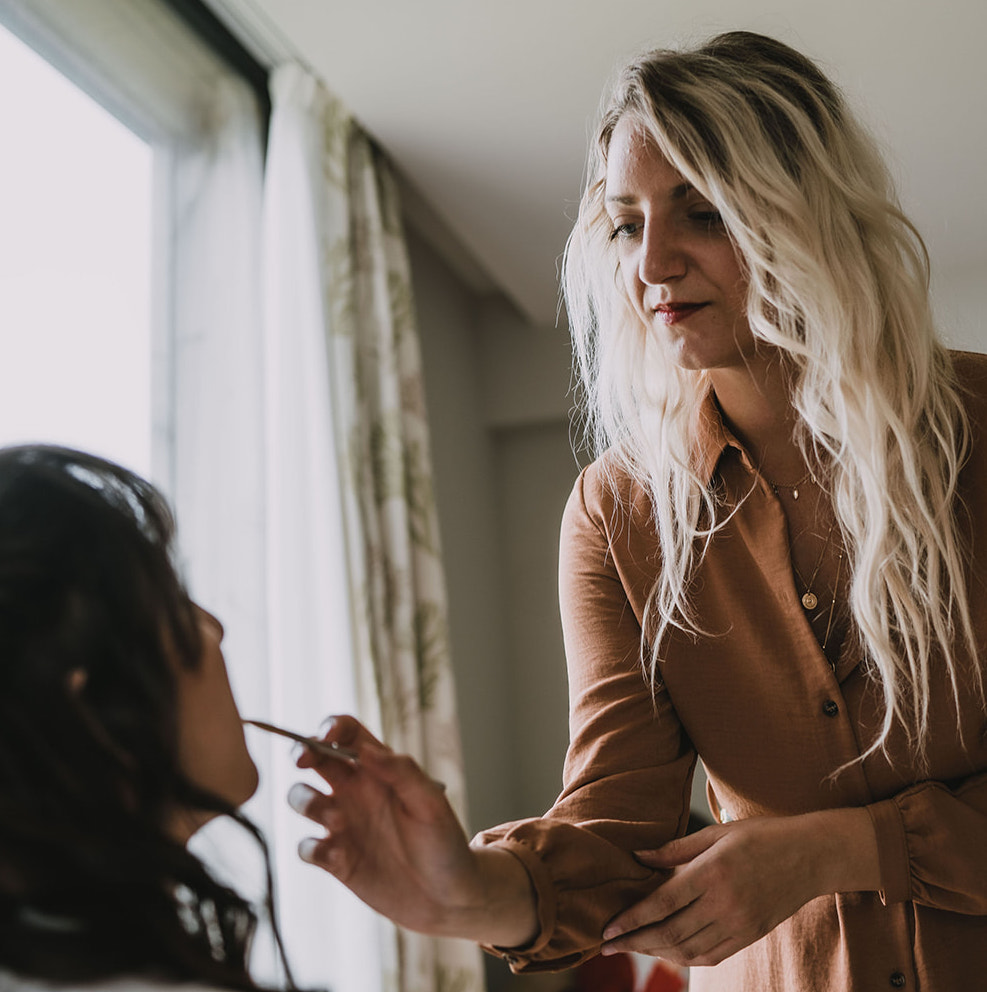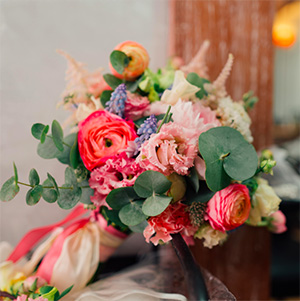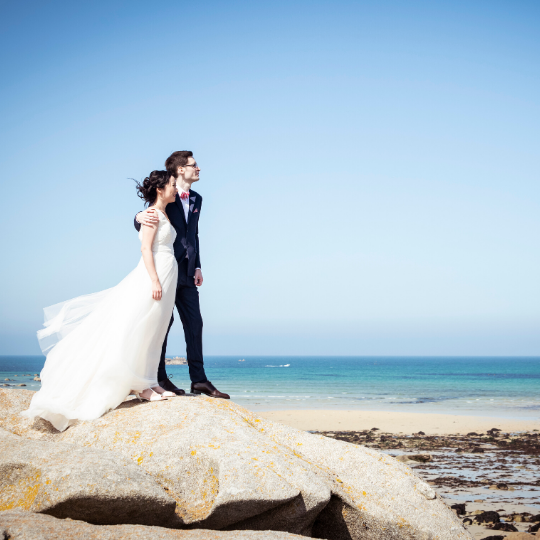 We highly recommend you to come to this little paradise for a full week, so you really have time to relax and enjoy your experience. By doing so, you will be able to schedule your wedding day or vows renewal day during the week and avoid the week-end crowds. If you are coming from the United-States make sure you take enough time off work to adjust to the time difference and travel from an international airport to our secluded peninsula stress-free.
If you think our package is made for you, click on the "Book Your Date button" and fill-in the form. We will receive your inquiry and get back to you within 48 hours. If you don't hear from us in that time frame, please check your spam box or try and re-send your message.
If you have more questions, please contact us to schedule a skype consultation with your planner and officiant: anouck@sayido.fr